Client Information for Post-mastectomy Tattoos
Thank you so much for choosing me for this. Thank you for your email and photos, that helps me so much. I value being able to be a part of your story and this effort to take back control! Post mastectomy tattoos are close to my heart, and I'm excited to help. This place will give you information to help you along the process.
SOME EXTRAS
How long after surgery do I have to wait to get a post-mastectomy tattoo? We require at least one year after the last surgery. It's important.

Why only black and grey? Why only botanical imagery?
We find floral work to be organic and tends to cover so very well. We use the flowers and leaves and branches to trick the eye away from the scars or discoloration. Color fades while black and grey holds up over time and feels classic.

Will I need a touch-up?
Depending on the complexity of the work, occasionally a second session is needed. We'd say 1 in 10 tattoos request the free touch-up. We can always darken your tattoo, but if it's too dark… there's nothing you can do. :) A touch-up is absolutely free and we can always make a tattoo look even better if need be!

Is there any more information on David?
There is! Here are a couple of articles that dive in: Chicago Tribune / Follow up article. And David has been exhibiting some of these post-mastectomy tattoos in museums. One was shown at the Museum of Modern Art in NYC, and he has an entire exhibit in Chicago at the International Museum of Surgical Science. Here's a video, from the exhibit, of him speaking on the meaning behind the process and the importance of empathy : Empathy Video on Vimeo.
POST-MASTECTOMY TATTOO
After reading your email, you've been selected for this incredible process.
I can't wait to sit with you and create your mastectomy tattoo.
The Process
My goal is to create something beautiful with you. Every mastectomy and/or reconstruction is completely different. The scarring is random for each person, so we take time together and tailor something elegant and floral to fit your body, shape, and your healing. I only tattoo in black and gray (it's safer and elegant), and am limited to floral work. Botanical imagery is perfect and organic and fits all shapes and sized. Because of possible corrections or surgeries, flowers can be fixed or edited to always look stunning.
The process is incredible. I give you my day… all of it takes place in one day. From start to finish, we sit and talk. We assess what areas need work or coverage and personal preferences. It's based on your needs. What you like and dislike… then I design it on the spot. You'll see a photo of you and I'll spend time seeing what would look best. You'll even get 3-5 different options for you to choose from!

After you've selected your imagery, we put a stencil on your body to see how the tattoo will fit. It's liberating. And you can see a version of how it'll look on you. The creation and fitting usually takes from an hour and half to three hours. It's important!
Finally, once you've approved, we tattoo!
* Occasionally, I'll have questions and might ask for an OR (Operation Report), and, if need be, communicate with your plastic surgeon. It's rare, but certainly useful as a precaution if I have concerns!
Pricing
As we have a long queue of people waiting for appointments, a deposit is taken to secure the appointment day and time.
The $400 deposit comes out of the total fee on the day of the appointment.
The price of the the day, the process, the design work and the tattooing:
A standard double mastectomy tattoo with reconstruction: $2200
A standard single mastectomy with reconstruction: $1600
"Standard" covers the majority of reconstruction sizes. If your reconstruction happens to be larger than the average, there can be an upcharge which will be communicated to you early on.

Mastectomies without reconstructions are usually a few hundred dollars less, but this is dependent upon the complexity of the design.
The $400 deposit is required within 1 week of e-mail correspondence and can be sent via this Paypal payment page: * Deposit via Paypal
Appointments
Doing mastectomy tattoos is one of the most rewarding things I've ever done. It's mentally and emotionally heavy in the best way possible. I pour myself into each project! Because of this, I take on 6-8 a month. Each person is hand picked from a queue of emails. 
I have certain days set aside each month. I'll correspond with you to see what works. Often the days are random and I realize most of my clients travel from all over the world, so I'll do my best to coordinate, but often the dates sent are the best to work with. I do the booking a few times a year and load up six months worth in advance. This helps with traveling and organizing. 
Appointments usually take place in the morning and can last anywhere from 5-10 hours. If you're traveling in, I suggest you make a point to stay the night in Chicago… both the night before the appointment, and the night after. Even if the tattoo isn't that painful, your body and mind tend to exhaust itself in effort to remain calm and then to heal. Rest is important!
What to know: Appointment Day
For many, this is an entirely new experience! For some, this is an addition to other tattoos you've received. Whatever the case, this will be a beautiful and unique experience. I've tried to synthesize information and questions that come up about what to know for your tattoo appointment!
Studio information, as well as Chicago details and traveling questions are all posted at the bottom of this page. Just follow the link to the Studio.
What do I wear?
Please be comfortable! You'll be spending hours laying down on your back getting tattooed. Some people bring blankets, slippers, things to squeeze during pain, books, and extra clothing.

What do I need for aftercare?
I'll give you a care sheet, but if you're wanting to prepare yourself, I recommend Aqua-phor for the first couple of days and then a quality, un-scented lotion.

Can I bring family and/or friends?
YES! I encourage it. The studio is a 2000 square feet and created with community and family in mind. There's space and amenities. Of course, it's your process and you can plan it however you'd like, but know that your loved ones are welcome! There's Wifi, a living room area, a table for working/eating, your own restroom and books galore.

Why can't I see the tattoo design before hand?
Because the image is created with you! Without knowing how you feel about yourself and your body, it's impossible to create a custom piece for you. The process is super inclusive and individualized.

Can you help me with travel or Chicago information?
Yes! There's a studio page setup just for this… follow the link below all of this for the Studio Information.

Any other tips or advice?
This is all random but… make sure you eat a good meal the morning before you get tattooed, please don't drink much alcohol the night before, understand you'll have to break from exercise and swimming for a couple of weeks, and ibuprofen is wonderful for inflammation. :)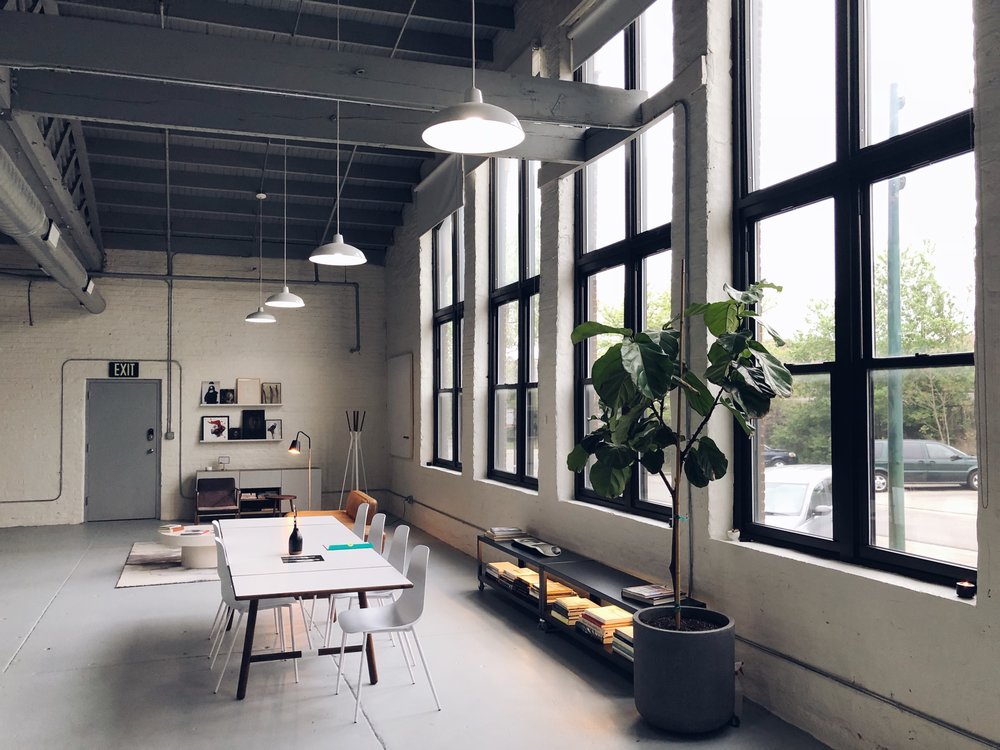 Address & Travel informaion